With eyes that can see through your soul. This sweet girl came to us in a sad and sorry state. Her owner had been in the hospital for a long period and then passed away. Poor Gretchen was heartbroken and lost. She was 9 years old and had been paralyzed since she was two. Old age had also left her with very bad arthritis in her shoulders. She needs special care and lots of attention because she can not get around at all on her own.She seemed to have lost the will to live and we thought she would only be with us a very short time. We were determined to make that time as happy as we could.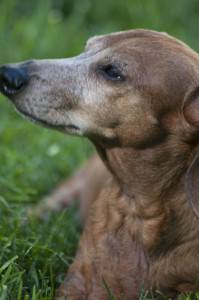 When she arrived she was so sad and lost she would barely lift her head off her paws. Spending all of her time in a kennel was not going to be a good life so we needed to find a way to keep her spirits up. With all our old and disabled wieners we had acquired a little orange puppy stroller. This was the perfect solution to the problem. Gretchen moved into her new digs and we started wheeling her from room to room so she could stay in the center of the family.
Soon her head was popping up and she was starting to watch the life going on about her. If we left her in a room by herself for more than a few minutes we would hear a little "woob" from her letting us know she was lonely. As spring time bloomed so did Gretchen. Her favorite time became her blanket time when she could sit out in the sunshine on her blanket in the grass. Soon we discovered that she could indeed get around in her own way. If we forgot to move her blanket with the sunshine we would come back to find she had scooted off her blanket and across the grass chasing her sun rays.
Now three years later the puppy we didn't think would survive the month is a happy and vibrant little fireball. She still can't move much on her own and she still spends her days in that old orange stroller but she is a happy girl with a feisty attitude. We don't know how many more years we will have her company but the one thing I am sure of….she will make the most of every day she has…and so will we.